We produce a monthly magazine for the advanced amateur and our aim is to publish all observations of astronomical interest as soon as possible after they are made. The magazine has been published since 1964 and subscribers are found all over the world. The magazines is available via a subscription in either PDF format via email or in paper format via the post. The magazine is usually distributed on the 20th of each month containing observations from the previous month.
Below is a recent sample magazine that can be downloaded, information on back issues from the NASA Astrphysical Data System (ADS) and a complete magazine index for all issues since 1964.
Sample Magazine
A sample TA magazine cover is shown below (click to download the full magazine)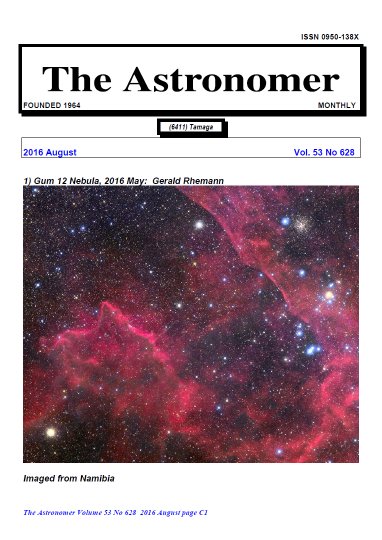 NASA ADS
The TA magazine from 1964 to 2014 are available on the NASA Astrphysical Data System (ADS).
Index
The contents of recent TA magazines are given below while an index of all magazines from 1964 is available.
2016 December Vol 53 No 632

2016 Dec pC1 (0.6) Photograph of Bruno Altieri, Euclid Archive Scientist, at TA 2016 Annual Meeting
2016 Dec pC2 (1.0) Images of AT 2016ino : 2016 Nov 25 (Discovery), Nov 28 - Ron Arbour
2016 Dec p198 (1.0) Editorial: The Astronomer, 2016 November 19 Meeting
2016 Dec p199 (0.3) TA Awards Volume 52
2016 Dec p200 (1.0) The Astronomer Annual Accounts 2015⁄2016 FINAL
2016 Dec p201-203 (3.0) News Notes
2016 Dec p204-209 (6.0) Comet Notes
2016 Dec p204 (0.3) Comet 29P/Schwassmann-Wachmann : obs
2016 Dec p204 (0.3) Comet 43P/Wolf-Harrington : obs
2016 Dec p205 (0.2) Comet 56P/Slaughter-Burnham : obs & astrometry
2016 Dec p205-206 (0.3) Comet 174P/Echeclus (60558) : obs & astrometry
2016 Dec p206-207 (0.6) Comet C/2011 KP36 (Spacewatch) : obs, image & astrometry
2016 Dec p207-208 (0.7) Comet C/2015 V2 (Johnson) : obs, image & astrometry
2016 Dec p209 (0.7) Comet C/2016 U1 (NEOWISE): discovery, obs, image & astrometry
2016 Dec p210-211 (2.0) Meteor & Fireball Notes
2016 Dec p210 (1.0) Fireballs of 2016 Nov 22 (Florida), Nov 23 (Ireland) and Nov 30 (GB)
2016 Dec p211 (0.8) November imaging summary – Alex Pratt
2016 Dec p212-213 (2.0) LED lighting: time to reflect? (AGM 2016) - Bob Mizon
2016 Dec p214-215 (2.0) Solar Notes
2016 Dec p216-218 (2.0) Planetary Notes
2016 Dec p216-217 (0.6) Observations of 2016 WG7
2016 Dec p217 (0.7) Drawings(2) of Mars : 2016 Nov 29 – Paul Abel
2016 Dec p217-218 (0.6) Drawing of Uranus : 2016 Nov 7 – Paul Abel
2016 Dec p218 (0.5) Conjunction of the Moon and Venus on 2016 December 02 – Mark Kidger
2016 Dec p220-224 (5.0) Variable Star Notes
2016 Dec pC3 (0.5) Image of Blazar, 4C 11.69 (= CTA 102) : 2016 Dec 3 - Tim Haymes
2016 Dec pC3 (0.3) Image of comet C/2016 U1 (NEOWISE) with Messier 51 in the field : 2016 December 1 - Montse Campas
2016 Dec pC4 (0.3) Image of Uranus and Moons : 2016 November 28 - John Fletcher
2016 Dec pC4 (0.5) Image of Blazar, 4C 11.69 (= CTA 102) : 2016 Dec 1 - Maurice Gavin

2016 November Vol 53 No 631

2016 Nov pC1 (0.7) Photograph of Klim Churyumov 'holding' Comet 67P, which he co-discovered - Iryna Zhdanova
2016 Nov pC2 (0.8) Image of Nova in Lupus = PNV J15290182-4449409 : 2016 September 27 - Ernesto Guido
2016 Nov p170 (1.0) Editorial: The Astronomer, Annual General Meetings
2016 Nov p171 (0.2) Recent death of Roy Panther
2016 Nov p172-174 (3.0) News Notes
2016 Nov p175-180 (6.0) Comet Notes
2016 Nov p175-176 (0.7) Comet 29P/Schwassmann-Wachmann : obs, image & astrometry
2016 Nov p176-177 (0.4) Comet 43P/Wolf-Harrington: obs, image & astrometry
2016 Nov p177 (0.3) Comet 144P/Kushida : obs & astrometry
2016 Nov p178 (0.4) Comet C/2011 KP36 (Spacewatch) : obs & astrometry
2016 Nov p179 (0.3) Comet C/2015 V2 (Johnson) : obs & astrometry
2016 Nov p180 (0.3) Comet C/2016 N4 (MASTER) : discovery & obs
2016 Nov p180 (0.3) Comet C/2016 R2 (PANSTARRS) : discovery & obs
2016 Nov p180 (0.3) Comet C/2016 T2 (Matheny) : discovery & astrometry
2016 Nov p181 (1.0) Solar Notes
2016 Nov p182-185 (3.5) Meteor & Fireball Notes
2016 Nov p182 (0.8) Fireball of 2016 Oct 6 – Bill Ward
2016 Nov p182-183 (0.6) Double-peaked meteor at 04:52 UT on 2016 Oct 9 – Nick James, Alex Pratt
2016 Nov p185 (0.3) Auroral Notes
2016 Nov p186-188 (3.0) Planetary Notes
2016 Nov p186-188 (2.5) NEO 2016 VA eclipsed by Earth – Peter Birtwhistle
2016 Nov p188 (0.3) Image of Mars : 2016 Oct 17 - Leonard Ellul-Mercer
2016 Nov p188 (0.5) Drawing of Mars : 2016 Nov 7 – Paul Abel
2016 Nov p189-190 (1.8) Obituary: Klim Ivanovich Churyumov (1937-2016) - Alexander Baransky and Guy Hurst
2016 Nov p192-196 (5.0) Variable Star Notes
2016 Nov pC3 (0.5) Image of RX Andromedae : 2016 October 12 - Martin Mobberley
2016 Nov pC3 (0.5) Image of Moon, 9 hours before perigee : 2016 November 14 - Denis Buczynski
2016 Nov pC4 (0.5) Image of Milky Way in Cygnus : 2016 September 30 - Peter Carson
2016 Nov pC4 (0.5) Image of Auroral Beam : 2016 September 28 - Denis Buczynski

2016 October Vol 53 No 630

2016 Oct pC1 (0.6) Image of Northern Milky Way : 2016 August 30 - Trevor Pitt
2016 Oct pC2 (0.5) Image of Fireball : 2016 October 5 - Richard Fleet
2016 Oct pC2 (0.4) Discovery Image of Supernova 2016fnr in UGC 10502 : 2016 August 29 – Ron Arbour
2016 Oct p142 (1.0) Editorial: Proxima Centauri b, an exo-planet near us
2016 Oct p144-146 (3.0) News Notes
2016 Oct p147-153 (7.0) Comet Notes
2016 Oct p147-148 (0.8) Comet 29P/Schwassmann-Wachmann: 2016 apparition so far – Richard Miles
2016 Oct p148-149 (0.4) Comet 43P/Wolf-Harrington: obs & astrometry
2016 Oct p150 (0.8) Comet 174P/Echeclus (60558): obs, image & astrometry
2016 Oct p151 (0.3) Comet 237P/LINEAR : obs
2016 Oct p152 (0.6) Comet C/2015 V2 (Johnson) : obs & image
2016 Oct p153 (0.5) Comet C/2016 A8 (LINEAR) : obs & astrometry
2016 Oct p154-157 (4.0) Meteor & Fireball Notes
2016 Oct p154-155 (1.3) Observations of Sep 23 and Oct 5 fireballs
2016 Oct p155 (0.7) Spectrum of 'melting' meteor – Bill Ward
2016 Oct p156 (0.8) Aug 31 fireball & September imaging summary – Alex Pratt
2016 Oct p157-158 (1.2) Perseid reports
2016 Oct p158-160 (3.0) Planetary Notes
2016 Oct p158-160 (1.5) Discovery Observations of the NEO 2016 QP45 – Peter Birtwhistle
2016 Oct p160 (0.9) Drawing of Mars : 2016 Aug 30 – Paul Abel et al
2016 Oct p161-162 (1.3) Solar Notes
2016 Oct p162 (0.3) Auroral Notes
2016 Oct p164-168 (4.9) Variable Star Notes
2016 Oct pC3 (0.5) Image of Penumbral Lunar Eclipse : 2016 September 16 - Colin Henshaw
2016 Oct pC3 (0.5) Image of Solar Eclipse from Indonesia : 2016 March 9 - Msgr Ronald Royer
2016 Oct pC4 (0.6) Image of Penumbral Lunar Eclipse : 2016 September 16 - Denis Buczynski

2016 September Vol 53 No 628

2016 Sep pC1 (0.6) Image of Vulpecula and Messier 27 : 2016 August 9 - Denis Buczynski
2016 Sep pC2 (0.3) Images(3) of comet 174P = (60558) Echeclus outburst : 2016 Aug 30-Sep 1 - Peter Birtwhistle
2016 Sep pC2 (0.6) Images of comet 174P = (60558) Echeclus outburst : 2016 August 30 - Peter Carson
2016 Sep p114 (1.0) Editorial: Astronomical Communications
2016 Sep p116-118 (2.2) News Notes
2016 Sep p119-124 (5.6) Comet Notes
2016 Sep p119-120 (0.5) Comet 29P/Schwassmann-Wachmann : obs
2016 Sep p120 (0.2) Comet 43P/Wolf-Harrington : obs
2016 Sep p120 (0.5) Comet 53P/Van Biesbroeck : obs, image & astrometry
2016 Sep p120-122 (1.5) Comet 174P/Echeclus (60558): obs(outburst), image & astrometry
2016 Sep p122 (0.3) Comet 226P/Pigot-LINEAR-Kowalski : image
2016 Sep p123 (0.4) Comet C/2013 X1 (PANSTARRS) : obs
2016 Sep p123-124 (0.5) Comet C/2016 A8 (LINEAR): obs & image
2016 Sep p124 (0.4) Auroral Notes : Provisional August NLC reports
2016 Sep p126-129 (4.0) Meteor & Fireball Notes
2016 Sep p125 (0.4) Gamma Draconid outburst – William Stewart
2016 Sep p125-128 (3.6) Perseid reports
2016 Sep p129-133 (5.0) Planetary Notes
2016 Sep p129-132 (3.0) Observations of Transit of Mercury : 2016 May 9 – Ian Phelps
2016 Sep p132 (0.4) Drawings(3) of Mars : 2016 July 6 – Paul Abel & Hugh Sasse
2016 Sep p133 (0.6) The close approach of NEO 2016 QA2 on 2016 August 28 – Peter Birtwhistle
2016 Sep p133 (0.4) The alignment of Saturn, Mars and Antares on 2016 August 24 – Mark Kidger
2016 Sep p134-135 (2.0) Solar Notes
2016 Sep p136-140 (5.0) Variable Star Notes
2016 Sep pC3 (1.0) Image of Asteroid 2016 RB1 close approach : 2016 Sep 7 - Ernesto Guido
2016 Sep pC4 (1.0) Image of NEO 2016 RB1 : 2016 Sep 6 - Montse Campas
2016 Sep pC4 (0.5) Image of comet C/2015 Q2 Pimentel : 2015 Aug 31 – Ernesto Guido & Nick Howes